Conscious parenting…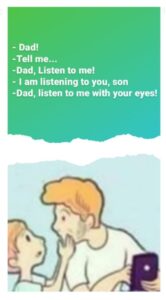 As parents, we often worry about our children and sometimes we are not sure how to respond to them in given situations. This is common for parents around the world.
The image on the left is thought provoking because it shows us the interactions between parents and children at times, and perhaps we (as parents) do not even realise it. The message from the image is to connect with our children with all our attention. Too often, parents feel or report that their children do not pay attention to them when they (parents) want to talk to them or that they (parents) seem disconnected from them. As parents, It is important to ask ourselves "how present are we when we are with our loved ones, not only with our children?" What is the real presence at the moment? Too often, we are present with our bodies but not our minds (as our minds are full of demands and not in the moment).
One of the most important psychotherapists working on parenting, Tina Payne Bryson, has stated that the longitudinal research in child development clearly demonstrates that one of the prominent predictors for help any child turns out in terms of happiness, social and emotional development, leadership skills, meaningful relationships and even academic and career success is whether they develop security for having at least one person that shows up for them.
One important thing that Ms Bryson encourages all parents to keep in mind: we do not need to try to be the perfect parents because a perfect parent does not exist. However, there is something that we must seriously consider, just to show up. Showing up in their words means being there for your children, physically present as well as providing a quality of presence. They state that as a parent we need to provide our presence when we are meeting our children's needs, when we are expressing our love to them, when we are disciplining them, when we are laughing together even when we are arguing with them. Showing up means bringing our whole being, our attention and awareness when we are with our children. When we show up we are mentally and emotionally present for our children, in that moment the power of our presence promotes resilience and strengths in our children.
In their book, "The Power of Showing Up" the authors describe four S to help parents to provide their presence in a healthy way:
> SAFE: Parents have two primary jobs when it comes to keeping their kids safe, and making them feel safe: protect them from harm, and avoid becoming a source of fear and threat. They also provide some strategies to promote safety:
Do no harm: Make a commitment that you won't be the source of fear in your home.
Repair, repair, repair! When there's a breach in your relationship with your child, reconnect as soon as possible and apologize if necessary.
Help your kids feel snug in a safe harbor: Create within your home an overall environment of safety and well-being.
> SEEN: Truly seeing our kids is about three main things: (1) attuning to their internal mental state on a profound and meaningful level; (2) coming to understand their inner life; and (3) responding to what we see in a timely and effective manner. This three-step process helps children "feel felt." Which are the strategies that we can use for Helping Your Kids Feel Seen?
Let your curiosity lead you to take a deeper dive: Simply observe your kids. Take the time to look and really understand what's going on with them, discarding preconceived ideas and avoiding snap judgments.
Make space and time to look and learn: Generate opportunities that allow your kids to show you who they are. Create space for conversations that take you more fully into their world so you can learn more about them and see details you might otherwise miss.
> SOOTHED: When a child is in a state of internal distress, that negative experience can be shifted by an interaction with a caregiver who attunes to and cares for her. She might still suffer, but at least she won't be alone in her pain. Based on this parent-directed "inter-soothing," she'll learn to provide "inner soothing" for herself. Which are the strategies that the authors suggest to promote inner Self-soothing:
Build a calming internal toolkit: Before emotional situations arise, work with your child to develop simple tools and strategies to help him calm himself.
Offer your P-E-A-C-E: When your kids are upset, give them your presence, engagement, affection, calm, and empathy.
> SECURE: The fourth "S" results from the first three. We give our children a secure base when we show them that they are safe, that there's someone who sees them and cares for them intimately, and that we will soothe them in distress. They then learn to keep themselves safe, to see themselves as worthy, to soothe themselves when things go wrong. Which are the strategies to promote a Secure Base:
Invest in a relational trust fund: Each time your kids need you and you show up, the trust in the relationship increases. You make a deposit in the relational trust fund.
Teach mindsight skills: Teach your children to show up for themselves when they need to feel more secure. Provide them with the gift of mindsight, which helps them better understand their own as well as another person's mind. With mindsight skills they can live lives full of security, meaning, and significance, both as individuals and in relationships with others.
Parenting requires a lot of reflection on the part of parents and also working on our own self-regulation skills, not only to connect with children but also to help them be resilient, healthy individuals. We are their role models per excellence.
Reference:
Siegel J. Daniel; Payne Bryson, Tina (2020), The Power of Showing up, Random House, United Kingdom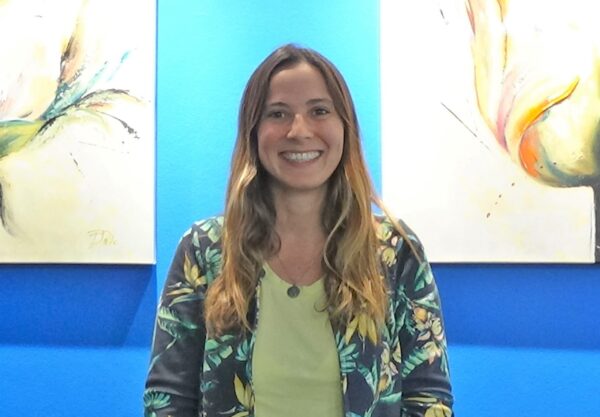 Andrea has 10 years experience in teaching and six years experience in the psychology field. She holds a Bachelor in Early Childhood Teaching and a Bachelor in Psychology (Uruguay). Andrea is also a Mindfulness trainer for children under the Eline Snel method (A.M.T – Academy for Mindful Teaching, Holland). Andrea has vast experience working with children and their families in different settings including schools and private practice and is a full member of the ACWA (Australian Community Workers Association).