Starting a Mindful Year
Each year that begins, we are challenged to face endless personal and family tasks and obligations. The school break generates changes in our routine, and for most of us, we have to quickly adjust back to established schedules, tasks and activities. Every change generates the need to assimilate, accommodate and finally adapt to the new reality. This is a psychological process that we all go through. During the process, different emotions are aroused: neutral – positive and / or negative. It is important to keep in mind that there are no good or bad emotions but that each emotion is produced to give us information about how we are feeling in a certain situation. That is why it is important to be able to welcome all our emotions and break old beliefs.
Being able to accompany children on their return to school requires attention to what emotions arise in them. In this way, you can choose what to do to support them and help them navigate the beginning in the best possible way. Also, it is important to be aware of the emotions you feel about your children's experiences. We cannot forget that children are very perceptive in relation to what we feel and think.
What you can do to help your young children and/ or teens?
MOTIVATION: Children grow up within the family system and that is their best environment to learn the values ​​and meaning of each of their days. Parents are their children's first and primary guides through their schooling experiences. Therefore, the motivation that you show as a parent about their school experience and your own feelings about your personal activities, like work, is really important to help them feel motivated and excited.
Being conscious parents requires paying attention to our attitudes, gestures, and expressions with respect to every situation, be it academic, social, or of any nature. It is even important to bear in mind that many times the judgments as a parent about how difficult or easy a situation can predispose children and teenagers to how they will position themselves in different situations. Recent research indicates that all spoken expression, positive or negative, produces an emotional discharge in the brain. The negatives activate the amygdala, a brain structure linked to alerts and generates a feeling of discomfort, anxiety or anger. Positive or stimulating expressions are assimilated by the right hemisphere of the brain, which generates pleasure, surprise and joy.
ANTICIPATION: Anticipation of future confers great benefits to human well-being and mental health. Specifically, expecting the forthcoming events allows active preparations in cognitive, affective, and behavioural strategies (Grupe et al., 2013), which ensures survival in the changing and potential challenging environment (Gilbert and Wilson, 2007).
It is important to be able to create a positive environment, in which going to school begins with a slow awakening. This may require being able to calculate the time that different tasks might take and planning what to do at each moment. Children might take more time in completing these daily tasks, and unpredictable situations are part of everyday life. If we can plan, it may be possible to better buffer any situations that may arise and avoid a stressful environment for them and for us. For example, if you know that in the morning everyone is in a slower mode, it can be a good option to spend a moment of focus the night before and prepare everything for the next day. Sometimes it is not that we do not have time but that due to excess things to do, the organisation is not achieved. If we view that it is difficult to motivate children, it is possible to find a way of reward. Parents know the pace of their children and we can certainly anticipate how long family and personal tasks will take before going to school. In this way, we can start the day without putting pressure on the children and exposing them positively towards the learning and socialisation situations that will come later.
Also, it is important to recognise which situations are conflictive and try to avoid them. For example, if I know my child wakes up without wanting to talk, try to speak about things that are interesting for him or her or look for which is the right moment to ask about things that you know that could be annoying.
During the first period of class, we should help children and teenagers to establish a routine, know what activities they will participate in and what is expected of them each day of the week. To do this, it is necessary to be aware of the age of your children because the strategy to use to collaborate with them depends on it. The younger the children are, the visual resources will be of great help, but as the children grow up we will be able to dialogue with them and make tables with schedules and names of activities. It is very convenient to prepare a daily schedule on paper, with text, photographs, drawings, pictograms or ideograms, which must be placed in a visible place, for example, in their room or in the kitchen, etc. It will reflect the activities that the child has each day and the time corresponding to each one. Habits of basic autonomy can be included among their responsibilities. 8:00. Wake. 8:05. Get dressed. 8:30. Have breakfast. 9:00. Go to school. 9:30. Maths. 10:30. Break, etc. In this way, the child knows at all times what is expected from him or her.
MINDFULNESS PRACTICES: There are mindfulness practices that we can develop to try to stay attentive and present in the here and now. Practices that have to do with all those things we can do to cultivate mindfulness in our daily lives (e.g.: find a moment to breathe, walk observing, perceiving every detail of the way; eat while savouring; perform a single task at a time, etc.). According to Dr. Christopher Willard, it is important to ask ourselves "What am I doing right now and how do I know it? How do I know that I am listening to my child? How do I know that I am teaching? Do I hear my voice and see that the children are tuning in?
S.L.O.W
1. Soften your face and your body, 2. Lower your shoulders, 3. Open your chest and abdomen with one breath 4. Wilt your fingers and hands.
We usually praise children, and we also praise each other, how quickly we do things, but when was the last time someone complimented you on how slowly you did something?
T.H.I.N.K
What am I going to say is true?
Is it going to be helpful to the other, what am I going to say? Am I saying it or am I inspired? What I am about to say is necessary, and is now the time to say it? Is what I'm going to say kind?
These are some of the things we can do to get through this new year; to be able to be more present in our family and in our bonds, to relieve the stress of life itself.
Grupe, D. W., and Nitschke, J. B. (2013). Uncertainty and anticipation in anxiety: an integrated neurobiological and psychological
perspective. Nat. Rev. Neurosci. 14, 488–501. doi: 10.1038/nrn3524
Gilbert, D. T., and Wilson, T. D. (2007). Prospection: experiencing the future. Science 317, 1351–1354. doi: 10.1126/science.1144161
Willard, C., (2016). Mindfulness for parents and children. Spain: Sirio.
Kabat – Zinn J. and M (2012). Peaceful parent, happy child. U.S: Penguin Putnam Inc.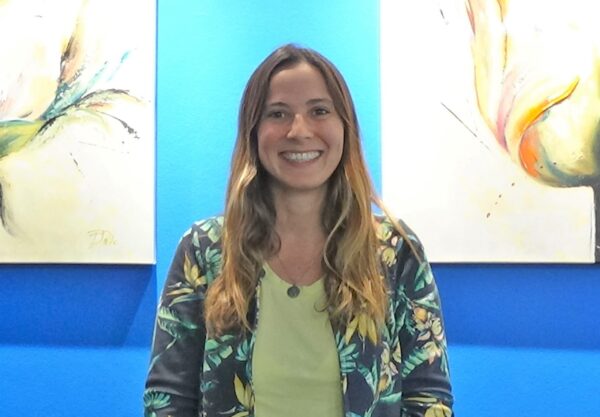 Andrea has 10 years experience in teaching and six years experience in the psychology field. She holds a Bachelor in Early Childhood Teaching and a Bachelor in Psychology (Uruguay). Andrea is also a Mindfulness trainer for children under the Eline Snel method (A.M.T – Academy for Mindful Teaching, Holland). Andrea has vast experience working with children and their families in different settings including schools and private practice and is a full member of the ACWA (Australian Community Workers Association).